Welcome to Ibratec, one of Latin
America's biggest packaging companies
We are a packaging company and a strategic partner to our customers.
With 30 years of experience and nearly 700 direct employees, we offer two equivalent production plants, both self-sufficient in energy.
Our nominal capacity today is approximately 78,000 tons a year of certified raw material.
New investments in printing, converting and materials preparation have increased capacity by around 30%.
Our governance practices are audited by PwC and our quality system complies with the standards of ISO 9001 and FSSC 22.000. All of this to ensure the uninterrupted supply of packaging
to the most important segments of consumer society.
Structure, management and commitment
to the value chain
Itapevi Plant (SP): 24,000m² of total area
Araçariguama Plant (SP): 26,000m² of total area
Attractive, functional packages,
both lucrative and recyclable
Foods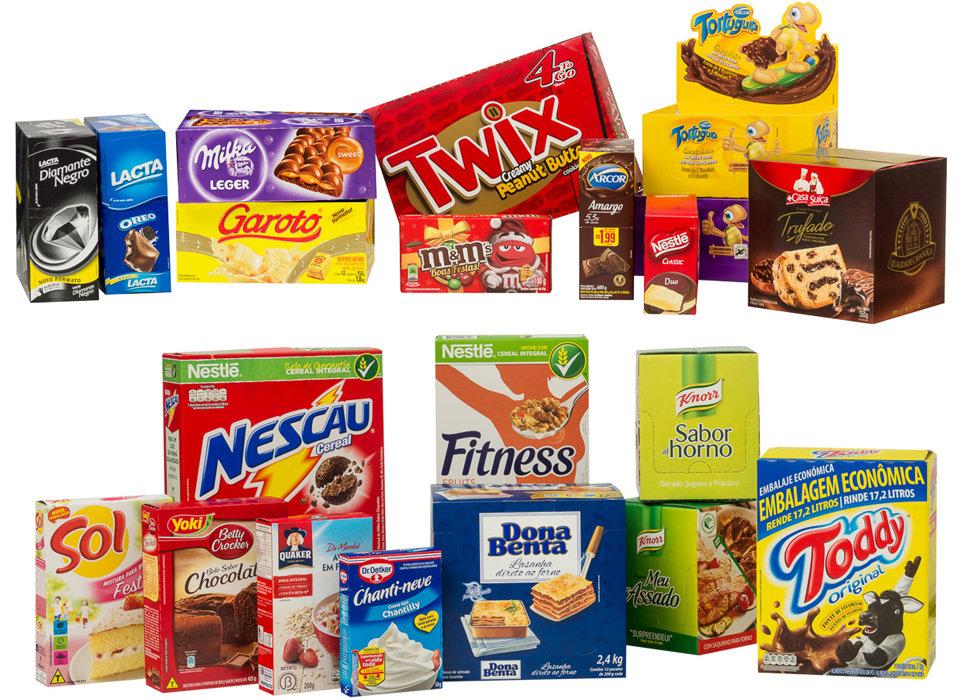 Frozen food, Chilled goods and Beverages
Cosmetics and Personal Care Items

Pet food, Homecare and others
Packaging made from cartonboard, laminates,
micro-flute and transparent sheets of PET and PP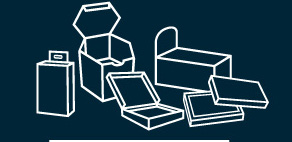 Differentiated formats
Sophisticated finishing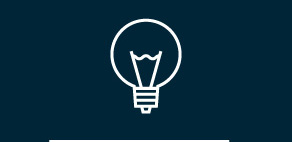 Capacity
to innovate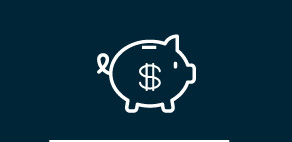 Optimized
specifications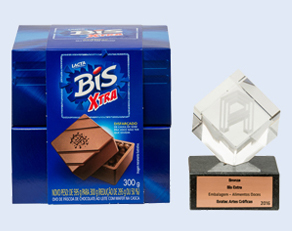 Bis Xtra / Mondelez
ABRE Award
Special Panettone
Pati Piva
Embanews Prize
Roberto Hiraishi Trophy
Prestígio / Nestlé
Major Packaging Cases Award
Belgian Recipe Panettone
Cacau Show
Embanews Prize
Roberto Hiraishi Trophy
New investments in state-of-the-art
infrastructure and technology
With investments to the order of U$12 million in both production plants, we are prepared for the recovery of economic growth. The market can now count on a brand new plant in Itapevi (SP) with state-of-the-art printing technology.
Ibratec is proactively audited by PwC
In line with the principles of good corporate governance practices, we are a packaging company that is audited by PwC. This proactive attitude contributes to efficient, transparent management and also confirms our commitment to the value chain of our customers.
Packaging from renewable and sustainable sources
The FSSC 22000 and ISO 9001 certifications demonstrate the ability of Ibratec's processes to meet the highest standards in food safety and quality management for the production of safe packaging.
Our integrated management system is audited by SGS, the world's leading inspection, verification, testing and certification company.
The FSC®certification demonstrates our commitment to convert cardboard from reforested areas. The inks are mostly plant-based.
Ibratec is in conformity with the SMETA international protocol for sustainability, covering aspects of social responsibility, environment and safety in the workplace.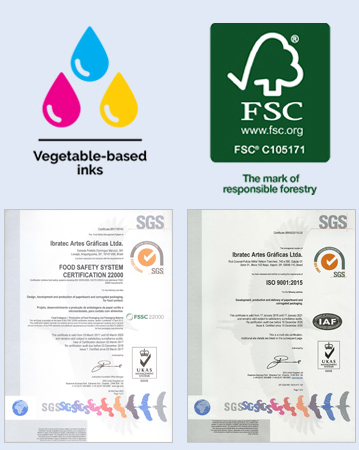 Respect and Human Development
We believe that we achieve quality by working in an environment that is healthy, respectful and suitable for personal and professional human development. We provide the conditions for our employees to enhance their technical and managerial competencies, to progress and accomplish sustainable results for Ibratec and for the communities to which they belong.
We respect human rights, fighting child labor, the use of slave labor and discrimination in any form. We have adopted our own code of ethics,
founded on corporate anti-corruption and anti-bribery practices.
Central Office
55 11 5070-8500